Events:
Year 2010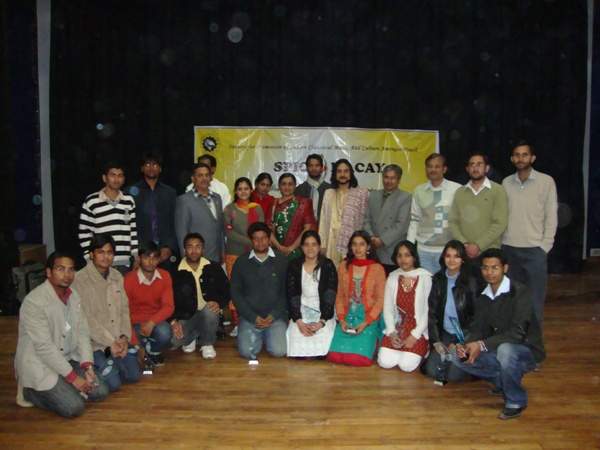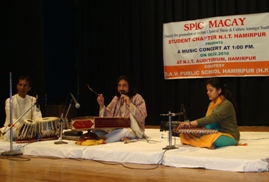 The SPICMACAY student chapter at NIT, Hamirpur, organized a cultural event featuring performances by renowned Indian classical artists on 6th and 7th of February. SPICMACAY is an organization that seeks to promote an awareness of our rich cultural tapestry amongst the youth of the country through focus on the classical arts.
The highlights of the event were performances by Pandit Bhajan Sopori, the Legendary Santoor Maestro, and Dr. Deepti Omchery Bhalla, a leading exponent in the dance form of Mohiniyattam.
On the first day of the event, the evening began with a mesmerizing three hours santoor recital by Pandit Bhajan Sopori,. Before commencing with his performance, Pandit ji explained to the audience the nuances of the instrument Santoor, as also was noteworthy his interaction with the audience members once the performance began, asking them to join along at various points during the extravaganza. Pandit Sopori was immensely satisfied by the feedback he received, and he gave an hour long performance on the second day of the event as well.
The second day of the event featured the accomplished dancer Dr. Deepti Omchery Bhalla, who gave a 90-minute dance performance, To make the performance more enjoyable as well as to give the audience a better understanding of the classical dance form of Mohiniyattam, before each dance routine, Dr. Bhalla would explain the emotions meant to be conveyed through the hand gestures and various Mudras involved. In addition to that, she also held an interactive session with the students of the institute on the morning of the second day.
The performances were also arranged for students of DAV school Hamirpur and MIT Group of Institutions Bani (Barsar) for the promotion of Indian Classical Music and Culture among society.
Past events:
Year 2006
NIT Hamirpur in coordination with SPIC-MACAY, a famous NGO, arranged a five-day programme of a famous violinist, Dr. (Mrs.) N. Rajam, at various places in Himachal Pradesh which included Hamirpur, Kangra, Sujanpur, Palampur and Una. Dr. (Mrs). N. Rajam is one of the foremost Hindustani violinists and a Padmashree and Padmabhusana, award winner. This had given an opportunity to our as well as the students of various other institutes in the region to interact with such an artist of international repute. The successful hosting of the event was made possible by the efforts of our Director Prof. I. K. Bhat, Dr. Anoop Kumar, Dr. Pardeep Kumar, Ms. Gargi Khanna, Ms. Meenakshi Sood, Mr S.K..Pradhan, Mr Rajiv, Mr. Achint, Mr. Abhinav, Mr. Gajender.