Chemical Engineering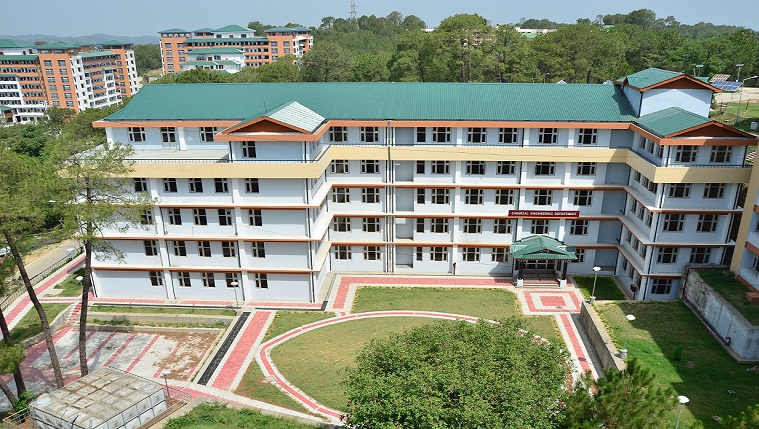 The Department of Chemical Engineering was established in the year 2013, with a mission to impart high quality engineering education and to mould the students to meet the ever growing demand of technical manpower in the area of Chemical Engineering. The department offers four years B. Tech programme in Chemical Engineering with a total intake of 75 students; M.Tech. program in Chemical Engineering (to be started from July, 2020) with a total intake of 15 students; and Ph.D. program. The department has a strong core curriculum complemented by electives in the important emerging areas of Chemical Engineering. The department comprises of eleven different laboratories for the undergraduates catering to the needs of the curriculum. In addition, analytical instruments, computer facilities and research laboratories for the postgraduates and doctoral resources are already in place. All the faculties are highly qualified and well dedicated to teaching and research in various fields of chemical engineering as well as in different interdisciplinary areas of engineering.
HOD MESSAGE
The Department of Chemical Engineering endeavours towards the fusion of engineering & chemical sciences, biological sciences and advanced materials. Department has well qualified faculty in the core and allied areas of chemical engineering like catalysis and reaction engineering, thermodynamics, transport processes, separations processes, biochemical and bioprocess engineering, microbial biotechnology, electrochemical engineering, fuel cells, synthesis and drug designing, molecular modelling and simulation, computational fluid dynamics, renewable energy, clean and green technology, desalination, industrial effluent treatment, advanced material characterization, supercritical fluid extraction, natural flavours extraction, optimization and modelling and stability, clean coal technology, food processing,
enhanced oil recovery etc.
The objective of the department is to bring together the expertise from different domains so as to give international exposure to its students as well as faculty founded on conventional and modern tools. Likewise using modern technological tools, we believe to remain in harmony with nature by utilizing the natural resources, to develop a sustainable process as well as technology on a long term basis. To address the above said goal, interdisciplinary approach towards teaching and research is required wherein faculty from the fields of biotechnology, biological & medical sciences, information technology, nano-technology, engineering, mathematics, environmental sciences and material engineering will work on national and international issues. Hence, our curriculum is designed and structured keeping all these on priority basis which directly allow the students to be in the forefront of rewarding career in the field of CHEMICAL ENGINEERING.
Within a very short span of time, the department has made an impression of excellence in the field of chemical engineering. The graduated students secured exceptionally good rankings/scores in national and internationally competitive examinations like GATE, GRE, TOFEL, IELTS etc. The graduated students are placed at various reputed organizations through campus interview. Several graduated students have also opted for higher studies at internationally reputed Indian and foreign institutes. In the recent past, the department organized several activities like industry-institute interaction, conference, short-term courses, GIAN, skill-India program etc. and has a plan to organize some more events in near future.
Apart from improving quality education to the students, the department is also actively involved in research and development activities. Several research projects of total cost more than 1 crore sponsored by external agencies are investigated by the faculty members of the department. The department is pro-active and would like to attract talented students and faculties.
HOD, Chemical Engineering Department
NIT Hamirpur, 177005
Our Vision
The vision of the department is to excel in Technical Education and to mould the students to
counter act the challenges of "Chemical and Allied Industries" along with responsibility towards
the society and environment at large.
Our Mission
To offer academic programmes those prepare students to master in chemical engineering & allied fields and exercise leadership in industry & academia.


To foster and encourage the pursuit of interdisciplinary research knowledge in chemical and allied fields using state-of-the-art laboratories.


To foment spirit of excellence and ethical leadership those support the regulation of chemical engineering education and the engineering profession.
Assistant Professor Grade-I
Sl.No
Name
Area(s) of Interests
Email
Profile
1
Dr. Radhe Shyam
Computational Fluid Dynamics
rshyam@nith.ac.in
View
2
Dr. Tapas Palai
Biochemical and Bioprocess Engineering, Membrane Separation
tapas@nith.ac.in
View
3
Dr. Alok Garg
Wastewater Treatment, ANN
alok.garg@nith.ac.in
View
4
Dr. Subhajit Majumder
Bioremediation of heavy metals and cost-effective water treatment techniques, Enhanced Oil Recovery (EOR) through biological routes, Process Intensification
subhajit@nith.ac.in
View
Assistant Professor Grade-II
Sl.No
Name
Area(s) of Interests
Email
Profile
1
Dr. A. K. Gautam
Phase Equilibria, Interfacial Energy, Statistical Thermodynamics
akgautam@nith.ac.in
View
2
Dr. Tara Chand Kumawat
Hydrodynamic stability, Transport Phenomena, CFD, Flow through porous media
tckumawat@nith.ac.in
View
3
Dr. Rahul Saha
Chemical EOR, Flow in Porous Media, Nanofluid, Rheology, Colloids & Interface Science, Reservoir Engineering, Biodiesel
rsaha@nith.ac.in
View
4
Dr. Pooja Thakur
Non-Newtonian Flow Rheology, Computational Fluid Dynamics, Transport Phenomena
pooja@nith.ac.in
View
Office Staff
Sl. No.
Name
Designation
Phone No.
Email
1
Sh. Joginder Singh
ASG-I
254882
jsingh@nith.ac.in
2
Sh. Ashok
Attendant
254882
ashok1964@nith.ac.in
Labs
4
Prof. Ashwani Kumar
Head of Department
Chemical Engineering
National Institute of Technology Hamirpur
Himachal Pradesh, Pin No. 177005, India.
Phone No. : 01972- 254880
HoD Email : head.che@nith.ac.in
Office Email : office.che@nith.ac.in