Mechanical Engineering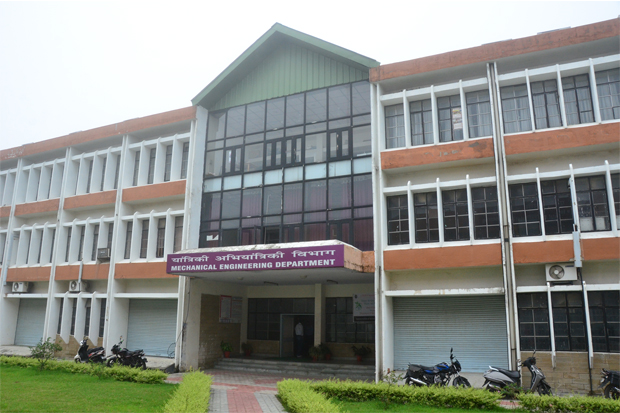 The Department of Mechanical Engineering came into its existence right from the inception of the then Regional Engineering College Hamirpur (now National Institute of Technology Hamirpur) in the year 1986 and served as catering department to other disciplines. The discipline of Mechanical Engineering started offering undergraduate programme leading to four year Bachelor of Technology (B.Tech) degree in Mechanical Engineering in the year 1994. The first batch was started with an intake of 30 students which has now been enhanced to 60 students by the Ministry of HRD, Government of India from the session 2006-2007 which has further been enhanced to 90 students. Since its existence, 21 Batches of Undergraduate students with B.Tech Degree in Mechanical Engineering, 14 batches of Postgraduate programme i.e. M.Tech. (Thermal Engineering) and 7 batches of M.Tech. (CAD CAM Engineering) have passed. Apart from this about 20 students have got their PhD in various areas of specialisation i.e. Thermal, Production, Materials and Design. The department has a separate building housing the various laboratories viz : Strength of Materials, Theory of Machines, Dynamics of Machinery, Mechanical Measurements and Control, Heat Transfer, Refrigeration & Air Conditioning, Turbo Machines, Production, CAD/CAM, Metrology & Heat Engines, lecture rooms, seminar room, faculty chambers and office. The major advanced equipments available in these labs are: Computerized two stroke petrol engine test rig, Gas analyzer, Vibration exciter, Dynamometer, Four ball tester (computerized), Sound level meter, Hardness tester (Rockwell & Brinell), Impact tester, Sophisticated metrology equipment, FFT analyzer machine condition monitoring equipment, Journal bearing test rig, Refrigeration tutor, Air conditioning tutor, Ice plant tutor, Various hydraulic turbines (Kaplan, Francis, Pelton wheel) and pumps, Centrifugal blower & Heat transfer equipments, Universal Testing Machine (Computerized), Plasma cutting machine, Pollution checking equipments, Projection manometer, Flaw detector, Computerized vertical machining centre, Robot etc.
The computer lab of the department is well equipped having PCs of P III and P IV configuration, Printers, scanner facilities and engineering software's like - NISA FINITE ELEMENT, FLUENT, FLOW LAB and ANSYS ADVANCED MULTIPHYSICS for the use of students and the faculty as well for academic and research purposes. More software's for CAD/CAM are being procured. The department has started a Postgraduate programme leading to M. Tech. Degree with specialization in Computational Methods and Experimental Techniques in Fluid Flow & Heat transfer, admitting students from the session 2005-2006 and offering a Ph.D programme in the areas of Design, Thermal, Production/Industrial. Research scholars have registered and are pursuing their Ph.D work. The department has also submitted proposals to start new PG programmes on CAD/CAM and MBA (Industrial Management). The department has seventeen faculty members fourteen of which hold Ph.D degrees. Rest of our faculty members possess M. Tech. Degrees and are pursuing their Ph.D. degrees. The faculty members are experienced having expertise in Design/Thermal/Industrial/Production and are engaged in research work in the areas of Solar Energy, Heat Transfer, Material Science, Quality and Reliability, Air pollution control, Tribology and Mechanism Design etc apart from teaching. The faculty members have got projects on MODROBS, TAT and R&D from various funding agencies like MHRD, DST, AICTE and TEQIP. A few more projects proposals have recently been submitted for consideration to these agencies. Our graduates are well placed through on-campus and off-campus placement and are holding responsible positions in different organizations viz. ITC, Godrej Consumers, Hero Motocorp., Maruti, Saint Gobain, Future First, Infosys, Wipro, DRDO, ISRO to name a few. Department of Mechanical Engineering is alive to the needs of coming times. Accordingly more facilities and expertise are being developed in the areas of Energy, Materials, Reliability, Robotics, CFD, CAD/CAM etc.
Our Vision
To build a vibrant multicultural learning environment founded on value based academic principles, where in all involved shall contribute effectively, efficiently and responsibly to the nation and global community.
Our Mission
To achieve academic excellence in engineering, technology, architecture and science by imparting quality and value based education. To inspire our students to become responsible citizens and competent professionals with high ethical values. To meet the expectations of technical human resource at national and international level.
Professor
Sl.No
Name
Area(s) of Interests
Email
Profile
1
Prof. Sunand Kumar
Mechanical Engineering
sunand@nith.ac.in
View
2
Prof. Anoop Kumar
Heat Transfer, CFD, Energy
anoop@nith.ac.in
View
3
Prof. R.K. Sehgal
Mechanical Engineering
rsehgal@nith.ac.in
View
Associate Professor
Sl.No
Name
Area(s) of Interests
Email
Profile
1
Dr. Rajesh Kumar Sharma
Tribology
rajesh@nith.ac.in
View
2
Dr. Rajiv Kumar Sharma
Industrial & Production Systems Engineering (Supply Chain, Operations & Quality Management)
rksfme@nith.ac.in
View
3
Dr. Somesh Sharma
Industrial Engineering (Strategic Operations and Management)
somesh@nith.ac.in
View
4
Dr. P.K. Sood
Production Engineering
pks@nith.ac.in
View
5
Dr. Sant Ram Chauhan
Composite Materials,Tribology,Manufacturing and Computer Integrated manufacturing
srchauhan@nith.ac.in
View
6
Dr. Prashant Kumar
Thermal Engineering
prashant@nith.ac.in
View
7
Dr. Siddhartha Sharma
Design, Materials Tribology, Friction & Wear, SAH,
sidmech@nith.ac.in
View
8
Dr. Varun
Renewable Energy, Heat Transfer, Turbomachines
varun@nith.ac.in
View
Assistant Professor Grade-I
Sl.No
Name
Area(s) of Interests
Email
Profile
1
Dr. Debasish Das
Thermal Engineering
debasish@nith.ac.in
View
2
Dr. Mohit Pant
Computational Fracture Mechanics
mohitfme@nith.ac.in
View
Assistant Professor Grade-II
Sl.No
Name
Area(s) of Interests
Email
Profile
1
Dr. Deepak Sharma
Thermal Engineering
dsharma@nith.ac.in
View
2
Dr. Param Singh
Manufacturing Engineering
psingh@nith.ac.in
View
3
Dr. Ajoy Debbarma
Thermal Engineering, Heat Transfer, Jet Impingement Cooling, Energy conversion system
adebbarma@nith.ac.in
View
4
Dr. Akhilesh kumar Choudhary
Condition Monitoring, Biofuel, Diesel Engine,
akhilesh@nith.ac.in
View
5
Dr. Dilshad Ahmad Khan
Advanced Machining, Nano-Finishing, Magneto-rheological Finishing, Additive Manufacturing (3D Printing, Rapid Prototyping), Industrial Automation
dilshad@nith.ac.in
View
6
Dr. Rajesh Kumar
Design
rpawar@nith.ac.in
View
7
Dr. LAXMIKANT YADAV
Thermal Engineering, Refrigeration & Air Conditioning, Modeling of Desiccant Wheel & Desiccant Cooling
laxmikant@nith.ac.in
View
Office Staff
Sl. No.
Name
Designation
Phone No.
Email
1
Sh. Raman Thaku
Asstt. SG-II
254702
raman@nith.ac.in
Technical Staff
1
Sh. Dev Raj Thakur
Sr. Technical Assistant
254705
-
2
Sh. Partap Chand Dhiman
Technical Assistant (SG-II)
254704
partapchand@nith.ac.in
3
Sh. Rakesh Kumar
Technician (SG-II)
254707
-
4
Sh. Surinder Gautam
Technician (SG-II)
254706
skgautam@nith.ac.in
Labs
13
Dr. Sant Ram Chauhan
Head of Department
Mechanical Engineering
National Institute of Technology Hamirpur
Himachal Pradesh, Pin No. 177005, India.
Phone No. : 01972 -254700
HoD Email : head.me@nith.ac.in
Office Email : office.me@nith.ac.in