Chemistry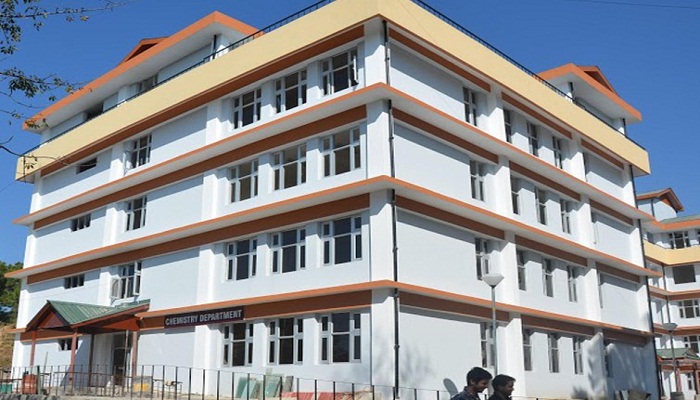 The Department of Chemistry came into existence as an independent department in August 2009. In addition to teaching UG and PG courses floated by various engineering departments, the department also offers Ph.D. degree in diverse areas of chemistry. The department is currently offering M. Tech. program in Chemical Technology in association with Chemical Engineering department from the academic session 2016-17 with an intake of 15 students from both science and engineering backgrounds. The department has also started M.Sc. Program in Chemistry from the session 2017-18 with an initial intake of 20 students. In the coming years, we plan for the extension and up gradation of the PG programs in terms of intake capacity as well as its curriculum based on current industrial requirements and needs. Further, the department also looks forward for active industrial participation in course structuring and training.
Vision
The department of chemistry envisages to be recognized as a department of par excellence in higher learning, mentorship of students, research in chemistry and service to the society.
Mission
Provide distinctive and relevant education in chemical sciences at the undergraduate, postgraduate and research levels.
Produce skillful, inventive and confident scholars for careers in academia, government and industry.
CORE VALUES
Vision and Mission of department of chemistry are reflected in a set of core values, which define the character of our department:
| | | |
| --- | --- | --- |
| | Integrity and Values | Striving to build an understanding of moral and ethical values among undergraduate and postgraduate students |
| | Effective Learning/Teaching Strategies | A work and learning environment where faculty and students choose to work together in a cooperative manner |
| | Creativity and Innovation | Creativity in generating new ideas in chemical sciences and their implementation |
| | Independence of Thought and Academic Freedom | The faculty, staff and students to have freedom to work and express their thoughts to create an academic environment, which promotes intellectual and professional development |
| | Accountability | Accountability for policies, procedures and actions undertaken by faculty, students and staff in the department |
| | Service to society | To educate the society and to create awareness about health and environmental issues via academic conferences/seminars and workshops |
Associate Professor
Sl.No
Name
Area(s) of Interests
Email
Profile
1
Dr. Pamita Awasthi
Chemistry
pamita@nith.ac.in
View
2
Dr. Bharti Gaur
Chemistry
bhartigaur@nith.ac.in
View
Assistant Professor Grade-I
Sl.No
Name
Area(s) of Interests
Email
Profile
1
Dr. Kalyan Sundar Ghosh
Bioorganic and Biophysical Chemistry
kalyan@nith.ac.in
View
Assistant Professor Grade-II
Sl.No
Name
Area(s) of Interests
Email
Profile
1
Dr. Raj Kaushal
Inorganic Chemistry
rajkaushal@nith.ac.in
View
2
Dr. Jai Prakash
Materials Chemistry and Physics, Functional nanomaterials for energy and environmental applications
jaip@nith.ac.in
View
Office Staff
Sl. No.
Name
Designation
Phone No.
Email
1
Sh. Joginder Singh
ASG-I
254102
jsingh@nith.ac.in
2
Sh. Banka Ram
Attendant
254102
-
Labs
5
Dr. Pamita Awasthi
Head of Department
Chemistry
National Institute of Technology Hamirpur
Himachal Pradesh, Pin No. 177005, India.
Phone No. : 01972 -254140
HoD Email : head.chy@nith.ac.in
Office Email : office.chy@nith.ac.in