National institute of Technology Hamirpur is one of the thirty first NITs of the country established in 1986 as regional engineering college and converted into National Institute of Technology, Hamirpur (NITH). It is an institute of national importance and imparts quality technical education at undergraduate level in civil engineering , computer science and engineering, Electrical and Electronics Engineering, Electronics and Communication Engineering, Mechanical Engineering, Chemical Engineering, Architecture, Apart from engineering undergraduate program , NITH also offers Post graduate, Dual degree in various streams of Doctorate Education in engineering, science and humanities .The institute aims to create technical manpower in various engineering areas of importance for nation and also contribute to latest growing technological and professional excellence.


Swachh Bharat Abhiyan is started to make India a clean India by the effort of all the citizens living in the country. It has been clearly declared by the Prime Minister, Narendra Modi that anyone may actively participate in the event anytime. He just need to take snaps of the dirty places and also take snaps of the same places after cleaning them and upload both.


In accordance with the Prime Minister's urge to make it a mass movement NIT HAMIRPUR has to contribute effectively towards "Swachh Bharat Abhiyan". In NIT Hamirpur The Honourable Director had inaugurated the mission on 30th of January 2015.

What is Swachh Bharat Abhiyan

Swachh Bharat Campaign: The Abhiyan was launched by Prime Minister Narendra Modi on 2nd of October, 2014 at Rajghat, New Delhi with an aim to make India clean. Aim is to provide sanitation facilities to every family, including toilets, solid and liquid waste disposal systems, village cleanliness, and safe and adequate drinking water supply by 2nd October, 2019. It will be a befitting tribute to the Father of the Nation on his 150th birth anniversary. It is significant that the PM himself is taking very proactive role in making the campaign a success; at Rajghat he started the campaign by cleaning the street himself.


However, it has been clearly declared that the campaign is not only the duty of the Government but each and every citizen of the country is equally responsible to keep the nation clean or swachh.


The campaign of Swachh Bharat launched by the government of India is aimed to accomplish various goals and fulfil the vision and mission of "Clean India" by 2nd of October 2019 which is 150th birth anniversary of the great Mahatma Gandhi. It has been expected that the investment to cost would be over 62000 crore of Indian rupee (means US$ of 9.7 billion). It has been declared by the government that this campaign is taken as "beyond politics" and "inspired by patriotism". Following are the some important objectives of the Swachh Bharat Abhiyan:



To eradicate the system of open defecation in India.


To convert the insanitary toilets into pour flush toilets.


To remove the system of manual scavenging.


To make people aware of healthy sanitation practices by bringing behavioral changes in people.


To link people with the programmes of sanitation and public health in order to generate public awareness.


To build up the urban local bodies strong in order to design, execute and operate all systems related to cleanliness.


To completely start the scientific processing, disposals reuse and recycling the Municipal Solid Waste.


To provide required environment for the private sectors to get participated in the Capital Expenditure for all the
operations and maintenance costs related to the clean campaign.



Fourth place in All over country in Govt. Institutions of Learning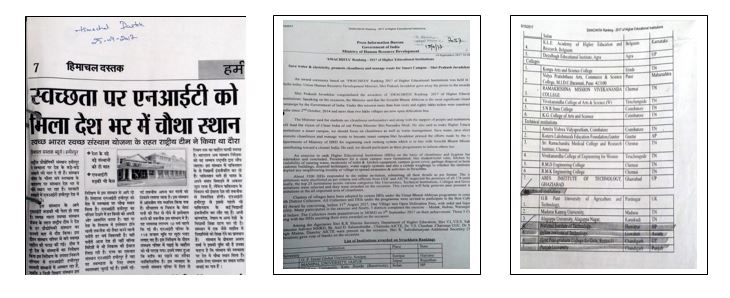 Activities to be Undertaken


Cleanliness in the Offices/Departments/Surroundings/Nearby areas.


Segregation of waste and proper disposal of garbage as per pollution control norms.


Cleanliness/Bus Stand/ Public Places and Anu Market.


Periodic cleaning of hostel messes.


Developing green belt on roadside of the campus to prevent aerosol pollution.


One day cleanliness awareness camp in the villages adopted under Unnat Bharat Abhiyaan.


To ensure that facility of toilets fresh drinking water, first aid and basic amenities be provided by the contractor to the labourer staying in the campus of NIT Hamirpur.


Availability of Quality Napkins Through Sanitary Napkins Vending Machines in girls hostel/campus.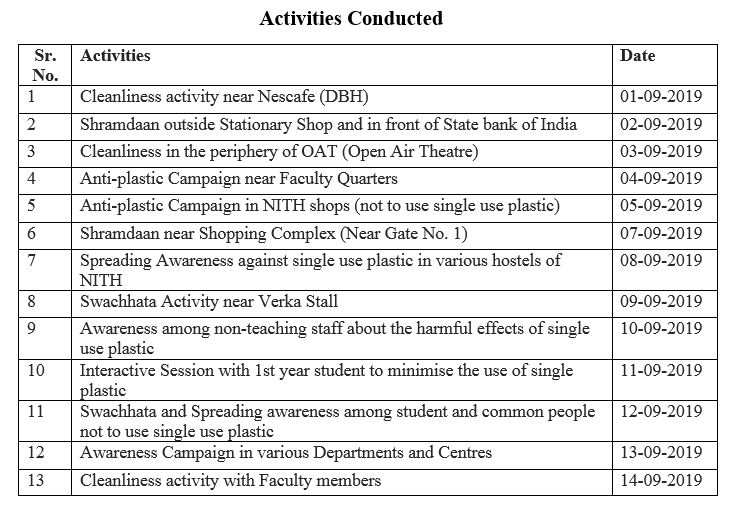 Dr. Debasish Das
Nodal Officer
Swachh Bharat Abhiyan
NIT Hamirpur (HP)
Telephone No. : 01972-254752
Email: debasish@nith.ac.in